As it is exactly said "No data, No resource", "Information" is an essential element of bioresources as the basic infrastructure for promotion of the life science. Integrated Bioresource Information Division aims to develop novel utilities and create new "values" of bioresouces by analyses of bioresource-related big data, and facilitate wide, effective and efficient use of bioresources for R&D in science and industry.
As the one of the BioResouce Infrastructure Divisions, core activity of BioResource Research Center, the Integrated Bioresource Information Division work on the three research plans; 1) Integration of metadata, international standardization and development of cross-resource search, 2) Homepage contents, and 3) Big data analysis and its visualization as follows:
1. Data integration and standardization
Establishments of informational technologies and standards for description and integration of bioresource-related data including biological characteristics, genome sequences and images are crucial for accomplishment the Division's mission. We develop data integration technologies to improve informational infrastructure enabling researchers can easily access and use bioresource-related data in the big-data analyses toward the era of the data-driven science.
2. Homepage contents
For the dissemination of bioresource information, the website plays crucial roles to promote uses of bioresource, by carrying resource catalog, window of the collection and distribution of resources as well as advertisement of resources to potential users. We operate workflow of homepage development to create homepage articles to respond to the social needs (e.g., disease problems, healthy life span and food production) and to research needs by proposing bioresources which can be used in the researches for solution of these issues.
3. Big-data analysis
We try to discover novel biological functions or principles of life systems applying large-scale data analysis technologies with mathematical analysis. We also try to introduce new practical technologies such as deep learning by which computers may give a decision focusing on the different view point from human decision, in which features of data are extracted independently to human decisions.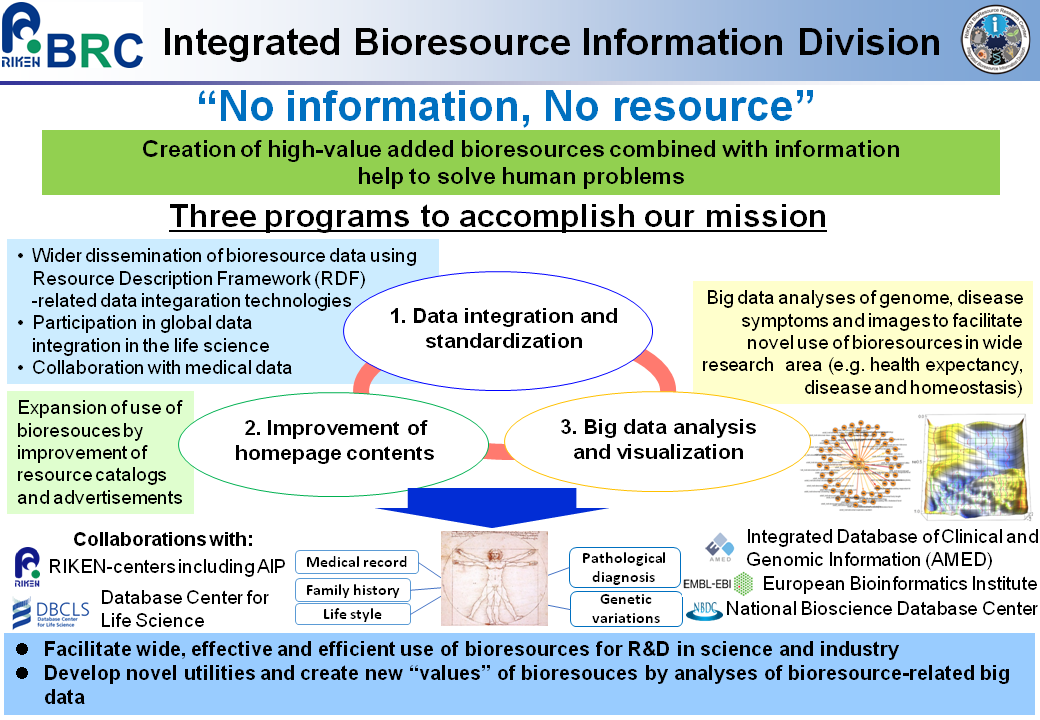 ※Click to enlarge